When we talk about a healthy lifestyle, education is the first step we need to take.
Well-known in the world for his healthy eating education campaigns, Jamie Oliver organized his "Food Revolution Day" through his local Romanian ambassadors.
The event aims to bring to parents and children's attention the risks to which junk food consumers are exposed and the benefits of a fruit and vegetable based diet.
Nordic Import Export, as gold partner, joined the campaign with its major brands such as Alpro, Rio Mare, Casa Azzurra, Costa D'Oro, Noberasco.
The event gathered over 1,600 people and 30 nutrition bloggers, as well as the Mayor of Sector 6.
The participants were actively involved in cooking workshops, parental counseling and enjoyed the surprises prepared by the organizers.
Alpro, Rio Mare, Costa D'Oro and Casa Azzurra delighted everyone's senses with healthy products for tasting or used in the preparation of meals.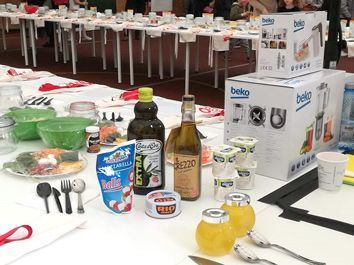 The on-line media has covered the event with multiple and generous articles, appreciating the organisational standards and the involvement of the Nordic Import Export sponsor.